This Product Is a 1-hour, 33-Minute mp3 Audio Seminar,
which you can download immediately upon purchasing.


Tap the "Play" button to hear an audio sample.
Here's The Problem.



The medium has become disconnected from the platform.

In other words…

In addition to broadcast airwaves, today's radio station aso uses websites, e-mail, text messaging, concerts, podcasting, RSS, viral marketing, etc.

This can be very disconcerting to people who still cling to the traditional media point of view — but it's a huge opportunity when you've learned how to adapt to and exploit these new opportunities of engaging our audience.


Here's The Good News.




Radio has more tools of engagement than competing media.

In a world where the medium is disconnected from the platform, your currency is ideas — your ability to exploit and harness those tools of engagement.

Everyone has access to the same tools.

It's the idea that brings it all together and makes you stand out from all the other radio stations.

You Will Learn:

• How to prosper in a world of Integrated Marketing Communications

• The new expectations of your listeners and advertisers (and why it's fatal
to ignore them)

• Why your enterprise is larger than your radio station

• Why in radio, either you will be a brand manager...or you'll work for a
brand manager

• Why your brand is larger than your radio station

• Why your listeners and your customers have relationships with your
brand, not with your radio station

• Questions you must ask to strengthen the engagement of your brand with
your listeners and advertisers

• Why you need to look at the Internet not as a medium but instead as an
alternate universe

• Why your radio station's website shouldn't look like a radio station
website

• How you can profit by receiving as much junk email as possible

• The three kinds of tools available to your radio station

• How and why your tools should be designed to work together

• Why your radio station can do more with television that the local cable TV
station

• How to come up with better ideas than you've been coming up with'
guaranteed!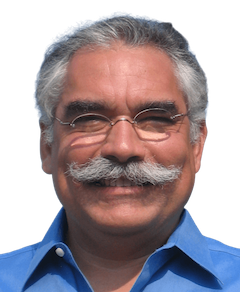 Gerry Tabio launched Creative Resources with
the specific goal of training other people to apply
his powerful techniques of harnessing creativity.
Since then, Gerry and his team have have trained
thousands of managers and salespeople in the most
effective ways to generate unique ideas that deliver
real-world business results for companies including
CBS Radio, Cox Radio, Emmis Radio, Clear Channel
Communications, TV Guide, Turner Entertainment,
America Online, Tommy Hilfiger, The Cartoon
Network, Tyson Foods, and Toyota Motor Sales.


IMMEDIATE DOWNLOAD!
When you submit your order, you'll be able to download this valuable audio seminar immediately.